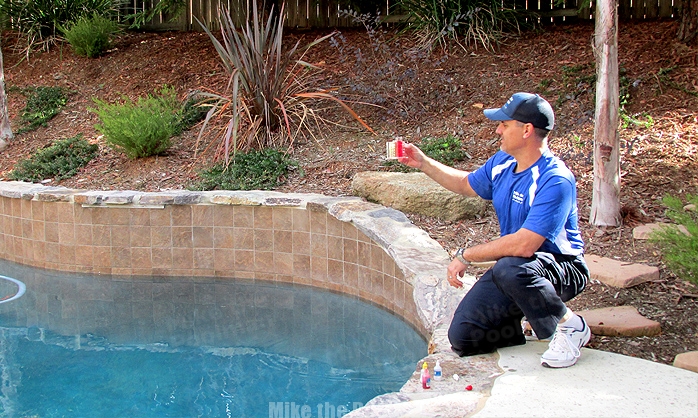 What are the two most common questions we hear from consumers? "I can never get a hold of my pool guy" and " I never know if my pool service company has been here".
– If you cant get a hold of Mike you aren't trying! Send us an email to find out how quick we respond.
– Each visit we electronically record your water chemistry results and the services performed. Our technician enters them into the computer and you are automatically sent an email update within 10 minutes of his departure!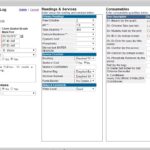 (see the image to the right for an example…)
Weekly pool service, pool maintenance and pool cleaning in El Dorado Hills and Folsom.
See what our customers are saying….
"Reliable", "Honest", "Top Notch Service", "Fair Prices"…

In addition to weekly pool service, we also diagnose repair and install pool equipment including variable speed pool pumps.
CONTACT US NOW by email.
Weekly Pool Service Options:
We are almost at full capacity so we don't take on any and every pool but we'd love to see if your pool would be a good fit. Contact Mike for an evaluation.

For pool tips and helpful maintenance info, please read my blog.
We electronically record your water chemistry results and the services performed. Our technician enters them into the computer and you are automatically sent an email update within 10 minutes of his servicing your pool!
Ever wonder if the pool service technician has really been there? We take the worry away by providing customers with written accountability. We log all test results, the services we perform, and keep them as permanent record.
We are insured through the Independent Pool & Spa Service Association.
General Liability: $3,000,000 aggregate
Bond: $12,500
California Contractor's C53, License # 731809
C53 is the highest classification in the pool industry. We can build, remodel & repair all pools and spas in California
California Contractor's C46, License # 731809 allows installation and repair of solar hot water and photovoltaic solar systems
California Contractor's C61/ D35, License # 731809 was my first license- it allowed me to perform basic pool & spa maintenance and repair. We had to pay a fee to CSLB keep it when we incorporated in May 2006, so we gave it up. It served no purpose to keep it active since the C53 allows us to do it all,
City of Folsom Business License # 04 06690 This license allows us to work in Sacramento County
Professional Association of Diving Instructors (PADI), Advanced Open Water Diver This SCUBA diving certification allows me to SCUBA dive anywhere in the world. I completed my courses in Australia, February 1998
We limit routes to Folsom and El Dorado Hills. Keeping our pool cleaning route local allows us to always be within minutes of your swimming pool when concerns or repairs arise. Living in close proximity allows me to provide the best pool service available. I only accept pools for weekly service in or near my home in Folsom. (If you live outside our service areas and would like a service referral, I am very knowledgeable of quality pool cleaning companies and would be happy to refer someone in your area).
We regularly attend continuing education and product development courses. I have listed my extensive list of courses completed. I also teach continuing education classes and mentor new industry members.
We are actively Involved in the Swimming Pool Industry
I served on the IAPMO national swimming pool technical code committee and on the Board of Governors for the California Pool & Spa Association. I am a past president of Capital Valley IPSSA and former board member for The National Pool & Spa Institute (now known as APSP).
In business since 1995. I have been in the pool service business for over twenty five years and have been working on swimming pools in Folsom & El Dorado Hills for over twenty four years! My company is established, profitable and reliable. Our pool business exists to service, repair and care for your swimming pool.
We are a family owned business working for families. I (Mike) am married and we have three children attending school in Folsom. I understand how important it is to have a trusted professional in your backyard providing your pool service.
We are Water Chemistry Certified and a Member of IPSSA. IPSSA is the Independent Pool and Spa Service Association. IPSSA is a highly respected national trade organization that exists for the mutual professional benefit and growth of its members and for the continued improvement of the pool and spa industry. Members must pass water chemistry exams and attend regular meetings and are only admitted as members after meeting strict requirements. I, Mike the Poolman, served two consecutive terms as President from 1999- 2003.
Our Philosophy: Its really quite simple: Listen to your needs and provide insightful options. Customers hire me to be their swimming pool expert. We are paid to care for your swimming pool investment and save you money on costly repairs in the long run. Sometimes this means suggesting a repair to prevent a major expense and sometimes it means making you aware of an issue but letting it be because there isn't enough value in repairing it. Regardless, we make recommendations that are best for you. We communicate and offer alternatives, then we let you make the decision.