Swimming pool salt generator cell- Pentair IC40 with calcium buildup
February 26, 2015
Have you ever wondered what calcium build up looks like in a swimming pool salt generator cell? Most of you have read the manual about cleaning the cell regularly but if you're like me (and live in an area with low calcium content in the fill water) then you don't see calcium buildup often.
I came across this Pentair Intellichlor IC40 cell recently and wanted to show you all what a "dirty" or cell with  calcium buildup looks like: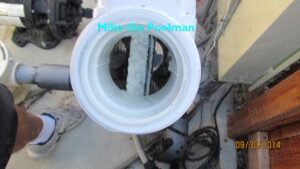 Other brands (Jandy/ Zodiac & Goldline/ Hayward) generator cells are a little different but are very similar on the inside as they all have electrode blades which convert the salt into chlorine.
The Pentair IC40 manual recommends cleaning the cell with a garden hose nozzle at jet setting and knocking the loose calcium off. For the hard to remove scale you should mix in a bucket with one part muriatic acid and four parts water. When you set the cell in the solution you'll see the acid fizz which is an indicator that the calcium is being eaten away. After the scale is gone you can put the cell back in service.
I hope this helps!
Sincerely,
Mike the Poolman