We custom install safety hand rails on new and existing swimming pools and spas.
If a handrail wasn't installed at the time the pool was built, we can still install a handrail for you.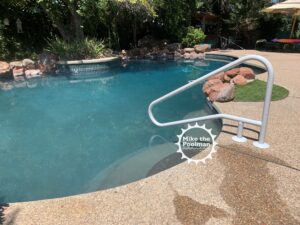 We core drill into the concrete and secure a rail(s) for you that will support up to 275 lbs of weight.
Our rails are secured with Anchor Sockets which are permanently cemented into the deck (which gives you the option to remove the rail from the socket and have a rail-free pool/spa if ever needed).
We use high impact polymer safety rails for strength, durability, low maintenance and because the rails are polymer-coated they are cool to the touch.
Rails are available in six color options: white, beige, taupe, gray (a lighter gray), graphite gray (a darker gray) and black.
Contact us for a quote.