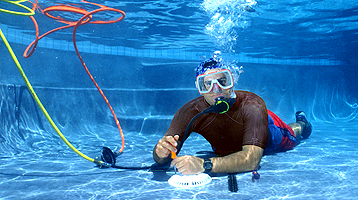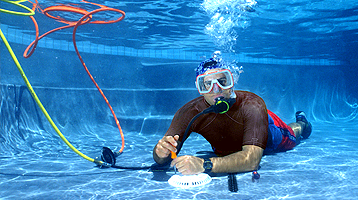 Underwater Pool Repair is a specialty trade within the the Pool Repair industry. You no longer have to drain your pool for repairs beneath the water.
We repair pools while underwater to Save you Water, Save you Time & Save you Money.
We are one of the few underwater specialists in California. We have been in business since 1995 and repairing pools underwater since 1999. We own & operate an innovative pool repair company that uses state-of-the-art repair techniques. Equipped with scuba gear and special air tools, we can completely restore pools marred with fertilizer stains, broken plaster, missing or dangerous drain covers and more within just a few hours -all underwater! (A list of repairs follows below).
No longer are pool owners kept out of the water for up to a week to complete a repair that includes several days of draining, replastering and water refill. Swimming can resume the following day.
There is also no risk of plaster expansion- our dry Sacramento Valley climate can crack and further damage an empty, exposed pool.
We will repair
You will avoid the headaches of:
Blistered Plaster (sun damage)
City, County and State Regulation
Floating/Popped Pools
High Water Bills for Refilling
Liability Risks
Popped and Broken Plaster
We are licensed by the State of California to build and perform any and all repairs on swimming pools and spas – License # C53-731809.
Certified for SCUBA by PADI as an Advanced Open Water Diver.
Please see a list of our Qualifications for more info.