On December 17, 2007, the Virginia Graeme Baker Pool and Spa Safety Act was signed into law.
This controversial child safety law became effective December 19, 2008.
All public swimming pools and spas must comply with the provisions of the Virginia Graeme Baker Pool and Spa Safety Act. The Act requires that all suction ports be equipped with ANSI A112.19.8 – 2007 approved anti-entrapment covers.
In addition, ALL pool/spa drain covers manufactured, distributed or entered into commerce on or after December 19, 2008 must meet ASME/ANSI
A112 19 8 A112.19.8 -2007 or successor standard. This includes all public and residential swimming pools.
If the pool is not designed with a split-T main drain system (with anti-entrapment drains covers separated at least 36 inches apart) or an unblockable drain (Underwater Unblockable Video…) the pool must have a secondary safety device, such as a safety vacuum release switch (SVRS).
On October 11, 2009 California Assembly Bill 1020 (AB 1020) was signed into law by Governor Arnold Schwarzenegger. The purpose of this new law is to ensure that California law is in conformance with federal safety standards (the Virginia Graeme Baker Act) designed to prevent entrapment hazards associated with public swimming pools and spas
Many pools will not comply with the new legislation by merely changing the main drain covers, because the sump below the drain cover does not meet the manufacturer's written specifications.
---
Commercial/ Public Pools:
VGB Frequently Asked Questions on PoolSafely.gov site…
Are you VGB compliant ?
Click to open the VGB compliance "Self-Help" flow chart:
Do

all

suction lines have dual ports?
Yes, go to 2.
No, go to 5.
Do ALL suction ports have stamped VGB 2008 compliant drain covers?
Yes, go to 3.
No, go to 4.
If all suctions lines have dual ports

and

VGB 2008 covers, the pool/spa is compliant.
No further action is required. Additional layers of protection are always recommended
but are not required.
Install VGB 2008 compliant covers.
You have six options:
a) split all single ports into dual ports (they must be 36″ apart)
b) disable all single ports by plugging
c) install unblockable drain cover (also known as channel drain) on all single port suction lines (we can do this underwater or by draining the pool)
d) install a gravity drainage system (this is an alternative but not realistic. This is only done
when the pool is built)
e) install a SVRS (vacuum release) system on each pump with single port suction) the pool/spa must be closed and cannot re-open until it is within compliance
More on VGB:
The goal of The Virginia Graeme Baker Pool and Spa Safety Act is to make every commercial/ public pool and spa safe.Because water flows in the path of least resistance, having at least two ports on each suction line has eliminated accidents (not a single accident). There are no reported suction entrapment accidents when suction lines have (properly installed) drain covers on dual ports (also known as split drains, dual drains and tee'd drains). The goal is to make every suction line a dual port and therefore prevent unnecessary accidents.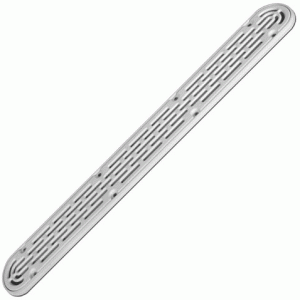 Most older pools do not have dual ports on every suction line (duals have been standard practice among top builders in California for awhile now). Today when pools are resurfaced, the contractor drains the pool, tee's (or splits) the single drain pipe into two drains, does the same to the equalizer ports, and all is safe.
However, to drain most swimming pools in the United States would be a tremendous waste of water (does anyone really need us to explain how precious water is these days…?) Seeing the need (many of us say "creating the need") for a product to protect swimmers, companies have developed (/ lobbied) vacuum release systems that meet (/created) federal guidelines.
and more…
The Virginia Graeme Baker Pool and Spa Safety Act of 2007 (not Virginia Graham Baker) promotes the safe use of pools, spas and hot tubs by imposing mandatory federal requirements for suction entrapment avoidance and by establishing a voluntary grant program for states with laws that meet certain minimum requirements as outlined in the Act.
Effective December 20, 2007, the Act is being administered by the U.S. Consumer Product Safety Commission (CPSC).
1. Mandatory Federal Requirements for Entrapment Avoidance.
By December 20, 2008, the Act requires:
• Safety Drain Covers. Each swimming pool or spa drain cover manufactured, distributed, or entered into commerce in the United States shall conform to the
American National Standard ASME A112.19.8 – 2007 Suction Fittings for Use in Swimming Pools, Wading Pools, Spas, and Hot Tubs published by the American
Society of Mechanical Engineers (ASME). Compliance with this Standard will be enforced by the CPSC as a consumer product safety rule.
• Public Pool Drain Covers. Each public pool and spa (as defined), both new and existing, shall be equipped with drain covers conforming to the ASME/ANSI
A112.19.8 – 2007 Standard described above.
• Public Pool Drain Systems. Each public pool and spa (pump) with a single main drain, other than an unblockable drain, shall be equipped with one or more
additional devices or systems designed to prevent suction entrapment that meet the requirements of any applicable ASME/ANSI Standard or applicable consumer
product safety rule. In addition to a compliant drain cover, such additional devices or systems include a safety vacuum release system (SVRS), or suction limiting vent system, or gravity drainage system, or automatic pump shutoff system, or drain disablement, or other system determined by the CPSC to be equally effective in preventing suction entrapment.
ANSI/APSP-7 Standard Exceeds Federal Requirements. All pools and spas configured to comply with ANSI/APSP–7 American National Standard for Suction Entrapment Avoidance in Swimming Pools, Wading Pools, Spas, Hot Tubs, and Catch Basins will comply with each of these mandatory requirements.
– What is VGB??
VGB is an acronym for Virginia Graeme Baker. She is a little girl who died in a backyard spa accident. The law is named in her memory.

– Do all commercial pool and spa main drain covers and equalizer covers need to be changed out?
Yes. All suction ports, bottom main drains and equalizers, must be changed out and must have a VGB 2008 stamp.
Will my pool/spa comply by changing out the covers?
Many pools/spas will not comply with the new legislation by merely changing covers, because the sump below the cover must meet the manufacturer's written specifications. In some cases, this will involve construction and design of a new sump. In other cases you may need another safety device such as a SVRS.
– What is a sump?
A pool sump is the pit at the lowest point in a circulating or drainage system. It is the area below or behind the drain cover and allows water to flow (or pull) evenly throughout the surface area of the drain cover.
What are the VGB sump requirements?
The law states that the sump must be a depth of 1.5″ of the pipe diameter (e.g. if the pipe is 2″, the sump must be a depth of 3″).
What do I do if my existing drain does not meet the new sump requirements?
This will involve construction and design of a new sump.
Who can modify and/or design a new sump?
In California, a C53 contractor's license is required to modify a sump.
My swimming pool service has a C61/D35 license. Can he/she replace the cover and modify the sump?
Yes and no. A C61/D35 Limited Specialty contractor can replace the cover but he/she cannot modify a sump. The dilemma is that the repair person does not know if the drain meets sump requirements until he/she removes the cover. If he finds it does not meet the requirements, the law says he must stop and hire a C53 contractor. If he proceeds anyway, he and the facility are subject to fines of up to 1.8 million dollars.
"Any person who knowingly commits a prohibited act under Section 19 of the Consumer Product Safety Act is subject to a civil penalty under Section 20 of the Consumer Product Safety Act. 15 U.S.C. § 2069(a)(1). Under current law, the maximum penalty for one or more related violations is $1.825 million. Congress is considering legislation that would increase this penalty to $10 million or higher. A willful violation of the drain cover standard could result in criminal penalties, including fines or imprisonment, under Section 21 of the Consumer Product Safety Act. 15 U.S.C. § 2070(a)." excerpt from the National Swimming Pool Foundation VGB document.

– How do I check to see if my pool service is licensed and if so what license he/she holds?
The California State Contractors Board provides an on-line license check free of charge: CSLB license check.
– What is SVRS?
SVRS is an acronym for Safety Vacuum Release System. It is a device installed at the equipment pad that is designed to prevent entrapment by disabling the pump suction.
– What is an Unblockable Drain?
The term unblockable drain means a drain of any size and shape that a human body cannot sufficiently block to create a suction entrapment hazard.
Aquastar Pool Products manufactures a popular brand referred to as a "Channel Drain".
(CPSC Staff Interpretation: An unblockable drain, to be consistent with the test procedures found in ASME/ANSI A112.19.8, would have minimum dimensions of 18" x 23", which represent the shoulder to waist measurements of the 99th percentile adult male).
– Who can install Unblockable/Channel Drains?
Because of required sump modifications, in California YOU MUST BE A C53 LICENSED CONTRACTOR to install unblockable/ channel drains. This is required when the pool is drained or the pool is repaired underwater.
– How do you know so much about this?
We have been in the pool industry since 1992. In 1999 The Pool Dentist of San Diego taught me how to repair pools underwater. Since then I have developed relationships with county health departments, served on board of directors for numerous swimming pool associations (NSPI, IPSSA, CPSA) and volunteered as an input agent on numerous swimming pool safety issues (IAPMO).
---
Residential Pools:
All drain covers installed after December 19, 2008 MUST have a VGB stamp on the drain cover.
If your drain cover comes off, by law we can only reattach it if it has a VGB stamp on it. If it does not have a VGB stamp we must install a cover with a VGB stamp.