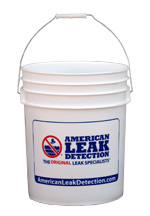 Please note: We are not leak detectors but we provide this information to help pool owners. After a leak detection company finds the leak we can repair leaks while underwater and without draining the pool.
A simple test will confirm a leak in a pool or spa called The Bucket Test:
**DO NOT LET CHILDREN PLAY WITH ANY BUCKET*
Bring the pool water to its normal level.
Fill an empty bucket with pool water to about one inch from the top of bucket (by filling the bucket close to the top you are ensuring that air movement over the surface of the bucket will similar to that of the pool).
Place the bucket on the first or second step of the pool. To keep it from floating away it may be necessary to place a few bricks or rocks into the bucket (by placing the bucket in the pool water you are ensuring that the water temperature of each will be similar)
Mark the water level inside the bucket.
Mark the water level of the pool on the outside of the bucket, on the pool wall, or skimmer face plate.
Operate the pool for 24 hours as it had been operated when a leak was first suspected.
After 24 hours, compare the two levels. If the pool water (outside mark) goes down more than the inside water level, there is probably a leak.
CLICK HERE FOR A PRINTABLE INSTRUCTIONS IN pdf FILE