Swimming Pool Energy Law
The California Energy Commission's Title 20 Appliance Efficiency Regulations require new or replacement filtration pumps for residential pools to meet certain energy efficiency standards. Specifically, pump motors used to filter pool water that were made on or after Jan. 1, 2006, must operate at two or more speeds and such pumps may not be split-phase or capacitor start. The most common replacements are variable speed pumps due to there impressive energy savings.
Title 20 Energy Law Specifics:
Why?
California has over 1.5 million private residential, in-ground swimming pools. On average each one draws 1.75 kW (kilowatts). Collectively, and if operated simultaneously, this would be over 2600 MW, or the total output of 6 medium sized power plants. If, and when all these pools are energy efficient, only 2 power plants will be needed, eliminating the need for 4 power plants.
When?
On January 01, 2008 all pool filtration pumps in California with a "Total Horsepower" of 1.0 (HP x Service Factor) or larger must be a 2 speed or variable speed pump.
Rebates
Rebates of $100 are available through Pentair through September 30th.
Energy Audits
Mike the Poolman is a Certified Aquatic Equipment Installer for PG&E.
Contact us by email above to set up your pool energy audit.
Variable Speed Pump Information and Installation
Visit our detailed variable speed pump page for videos and facts.
Pool Pump Affinity Law Specifics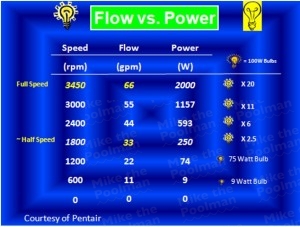 An Average single speed pool pump will use 2300 watts (230 volts x 10 amps). This is the equivalent of TWENTY THREE 100 watt light bulbs. A variable speed pump at 1800 rpm uses 250-450 watts (plumbing and water hydraulics account for the difference in watt consumption). Hiring a Certified Installer (Mike the Poolman) is recommended for maximum efficiency and savings.
Contact us above to set up an energy audit on your swimming pool.