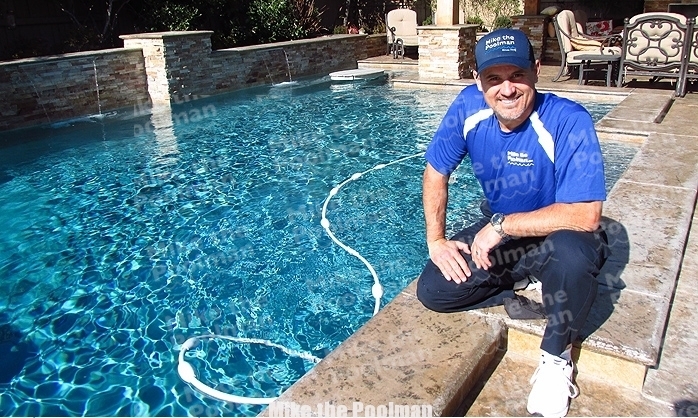 We (Mike the Poolman and family) are grateful for a long list of satisfied customers.
Customers are the best judges of a company's integrity.
Since 1995, we have built solid relationships with pool owners for both Pool Maintenance and Pool Service throughout the Sacramento region. This trust between customer and contractor is the foundation of our reputation.
We invite you to give us a try and find out for yourself.
My journey in the swimming pool business began in 1992. I was broke and needed to pay rent and found a part-time job cleaning pools for a wonderful couple managing Premier Pools Service Department out of their home. We all quickly discovered that I was a natural and within six months I was invited by the owners at Premier to become a salesman in the expanding pool construction department. That didn't work out too well and I was transferred to the remodel department. That didn't work out either and all the while I was kicking and screaming and soon found myself back in the (now in-house) service department. I didn't realize it for years to come but thanks to the owner's insistence that I attend new construction and remodel sites, I had gained invaluable knowledge as to how pools are built, remodeled, the sales process, customer relations, and, my own maturity. Before long I was asked to manage the service department and in 1995 Premier Pools and Spas generously sold part of their service route to me.
On October 1, 1995 my business launched and with my need to constantly learn I devoured every swimming pool educational course I could find near and far. Within a few years I unexpectedly found other pool techs calling me for advice and demand for my services has consistently grown.
And, the second most asked question: How did I come up with the name Mike the Poolman ? Quite innocently- when I worked for Premier a few of our customers' children (now grown!) used to refer to me as "Mike the Pool man". It was fun and I went with it never realizing it would become as marketable or successful as it has.

Years later my simple philosophy remains the same: DO WHAT'S BEST FOR THE CUSTOMER AND BUSINESS WILL THRIVE.

Mission Statement

Our mission is to make a living by providing trustworthy swimming Pool Service and Pool Repair.

Our core principals are:
We provide solution based options to allow customers to make educated decisions,
We make honest, truthful recommendations based on customer needs,
We will try to refer you to another professional if we cannot help.

Our approach builds trusting and committed customers that produce repeat business and an ever increasing source of referrals. Our practices lead to long lasting relationships and a sustainable business for the future of our customers and ourselves.

Licensing

California Contractor's C53, License # 731809
C53 is the highest classification possible in the pool industry. I can build, remodel & repair all pools and spas in California
California Contractor's C46, License # 731809
Allows installation and repair of solar hot water and photovoltaic solar systems
California Contractor's C61/ D35, License # 731809
My first license- it allowed me to perform basic pool & spa maintenance and repair. I had to pay a fee to CSLB keep it when I incorporated in May 2006, so I gave it up. It served no purpose to keep it active since the C53 allows me to do it all,
City of Folsom Business License # 04 06690
This license allows me to work in Sacramento County
Professional Association of Diving Instructors (PADI), Advanced Open Water Diver
This SCUBA diving certification allows me to SCUBA dive anywhere in the world.
I completed my courses in Australia, February 1998

Insurance

General Liability: $3,000,000 aggregate
Bond: $12,500


Industry Involvement

Independent Pool & Spa Service Association
IPSSA is an association of swimming pool and spa professionals who provide sick route coverage for each other. We also have unlimited resources for continuing education within the industry with many types of classes sponsored by numerous associate members.
California Pool and Spa Association
CPSA is a statewide umbrella non-profit trade association. CPSA promotes the industry while it educates the spa and swimming pool-owning public, local and state regulatory and legislative bodies on critical issues.


Industry Leadership

N.S.P.I. (now APSP) Sacramento Chapter, Secretary/Treasurer, Aug 1997 to Dec 1999
N.S.P.I. Sacramento Chapter, Vice President, December 1999 to December 2000
N.S.P.I. Region XI, Secretary/Treasurer, November 98 to November 2000
Capital Valley IPSSA, Resource Development Director, December 1997 to 2007
Capital Valley IPSSA, President, December 1999 to December 2003
PPOA, European Representative, 2002
Capital Valley IPSSA, Safety Chairman, December 2003 to 2008, www.cvipssa.com
California Spa & Pool Industry Education Council, Governor, 2005 to 2013, www.thecpsa.org
International Association of Plumbing and Mechanical Officials Swimming Pool Code Committee, 2009 to 2012
Pentair Advisory Council, 2011
California Pool and Spa Association, Secretary, 2013 to 2016, www.thecpsa.org


Personal Information & Experience

Born:

Michael Augustine Stinson,
1964 Mercy Hospital, 39th & J Street
Sacramento, California, USA
Education:
Graduated: Christian Brothers High School, 1982.
Graduated: St. Mary's College of California, BA in History, 1986.
Emergency Medical Technician Certified, Sierra College, 1995.
Swimming Pool Industry Courses (see below).
Experience:
Premier Pools & Spas, Sales, Service & Remodels, 10/92-10/95.
Mike the Poolman, established 11-1-95.
Swimming Pool Industry Courses (see Education tab).


Industry Education Courses Completed
(1992- present)

Sta-Rite Water Hydraulics (by the immortal Fred Hare), 3 hrs, Sacramento, CA ~ 1993
Ray Pak, Heater Installation & Repair, 8 hrs, Sacramento, CA ~ 1994
Ray Pak, Heater Installation & Repair, 8 hrs, Sacramento, CA ~ 1995
Jandy Industries, Electronic Control System Repair, 3 hrs, Novato, CA ~ November 1994
Teledyne LAARS, Heater Service Training, 16 hrs, Rancho Cordova, CA ~ December 1994
Polaris, Operation & Repair of Pool Cleaners, 3 hrs, Orangevale, CA ~ January 1995
Kreepy Klear, Installation of Chlorine Generators, 3 hrs, Rancho Cordova, CA ~ March 1995
N.S.P.I. Pool Tech I, 48 hrs, Sacramento City College, CA ~ February - April 1995
Kreepy Klear, Chlorine Generator Warranty School, 4 hrs, Rocklin, CA ~ November 1995
Sta-Rite Water Hydraulics National Training, 24 hrs, Waterford, WI ~ January 1996
Western Pool & Spa Show, 16 hrs, Long Beach, CA ~ March 1996
Michael Orr Solar (CPO), Solar, Walking on Roof Training, 2 hrs, Stockton, CA ~ April 1996
Michael Orr Solar (CPO), On site SOLAR Training, 18 hrs, Folsom, CA ~ April 1996
San Diego IPSSA Table Top, Basic Electricity, 3 hrs, San Diego, CA ~ January 1997
N.S.P.I. Pool Tech II, 40 hrs, Sacramento City College, CA ~ March 1997
Western Pool & Spa Show, 15 hrs, Long Beach, CA ~ March 1997
Michael Orr Solar (CPO), On site SOLAR Training, 12 hrs, El Dorado Hills, CA ~ April 1997
Understanding Electrical Circuits for Portable Spa Systems, 1.5 hrs, Sacramento, CA ~ April 97
Pool Industry Expo, Basic Electricity, 4 hrs, Monterey, CA ~ October 1997
Pac Fab Pool & Spa Electrical Testing Course, 8 hrs, Walnut Creek, CA ~ December 1997
Mother Lode Dive Center, Basic SCUBA Certificate, Sacramento, CA ~ January 1998
Western Pool & Spa Show, 17 hrs, Long Beach, CA ~ March 1998
Western Pool & Spa Show, 16 hrs, Long Beach, CA ~ February 1999
Sta-Rite Advanced Water Hydraulics National Training, 19 hrs, Mandalay Bay Hotel,
Las Vegas, NV ~ March 1999
The Pool Dentist Underwater Pool Repairs, 8 hrs, San Diego, CA ~ September 1999
The Pool Dentist Underwater Rebar Removal, 16 hrs, San Diego, CA ~ October 1999
The Pool Dentist Underwater Plaster Patching, 8 hrs, San Diego, CA ~ November 1999
Western Pool & Spa Show, 16 hrs, Long Beach, CA ~ February 2000
The Pool Dentist Underwater Rebar Removal, 16 hrs, San Diego, CA ~ September 2000
Western Pool & Spa Show, 11 hrs, Long Beach, CA ~ February 2001
Polaris Electronic Controls & Cleaner Repairs, 3 hrs, Folsom, CA ~ February 2003
Ray Pak Heater Troubleshooting & Repair, 8 hrs, Sacramento, CA ~ December 2003
Western Pool & Spa Show, 10 hrs, Long Beach, CA ~ March 2004
Why Pools Crack seminar, 3 hrs, Long Beach, CA ~ March 2004
Gas Pipe Socket Fusion Qualified, 2 hrs, Long Beach, CA ~ March 2004
Ray Pak Heater Troubleshooting & Repair, 8 hrs, Sacramento, CA ~ November 2004
Sta-Rite University, Heater Installation & Service, 8 hrs, Sacramento, CA ~ January 2005
Pentair Electronic Controls, 6 hrs, Sacramento, CA ~ February 2005
Western Pool & Spa Show, 2 hrs, Long Beach, CA ~ March 2005
The Nuts & Bolts of Remodeling a Pool, 2 hrs, Long Beach, CA ~ March 2005
Why Pools Crack seminar, 3 hrs, Long Beach, CA ~ March 2005
Goldline Controls, Aqua Logic & Salt Generators, 7 hrs, Sacramento, CA ~ December 2005
World of Concrete, Concrete Repair, Part I: Essentials, 3 hrs, Las Vegas, NV ~ January 2006
World of Concrete, Concrete Repair, Part II: Crack Repair & Protection Methods, 3 hrs,
Las Vegas, NV ~ January 2006
Sta-Rite University, Heater Repair, 4 hrs, Sacramento, CA ~ February 2006
Solar Depot Thermal Workshop, 8 hrs, West Sacramento, CA ~ February 2006
Pentair Electronic Controls, 3 hrs, Sacramento, CA ~ January 2007
Jandy Electronic Controls, 8 hrs, Rancho Cordova, CA ~ January 2007
Certified Pool Operators course (CPO) by NSPF, 16 hrs, Sacramento, CA ~ April 2007
Soils Engineering for Pools and Retaining Walls, 4 hrs, Monterey, CA ~ September 2007
The Anatomy of a Perfectly Engineered Pool, 4 hrs, Monterey, CA ~ September 2007
Repairing Severely Damaged & Distressed Pools, 4 hrs, Monterey, CA ~ September 2007
All About Gunite & Shotcrete, 4 hrs, Long Beach, CA ~ March 2008
Rebar Installation & Structural Engineering in Swimming Pool Construction, 4 hrs,
Long Beach, CA ~ March 2008
Pentair IntelliFlo VS+Safety Vacuum Release System (SVRS) Pump Training, 4 hrs,
Sacramento, CA ~ December 2008
Pentair 2009 Equipment Training Workshop, Automation and Heaters, 7 hrs,
Sacramento, CA ~ January 2009
Advanced Electrical, 2 hrs, Long Beach, CA ~ March 2009
Anti-entrapment and Our Changing Industry, 2 hrs, Long Beach, CA ~ March 2009
Practical uses for Variable Speed Pumps, 2 hrs, San Diego, CA ~ January 2010
Virginia Graeme Baker Pool & Spa Safety Act, Safety around the Pool, 2 hrs,
San Diego, CA ~ January 2010
Pentair Pool 2010 Equipment Training Series, 9 hours, Sacramento, CA ~ February 2010
Swimming Pool Repair and Remodeling, 2 hrs, Long Beach, CA ~ February 2010
Advanced Electrical for Swimming Pools, 2 hrs, Long Beach, CA ~ February 2010
Pentair Controls and Communication, 1.5 hrs, San Diego, CA ~ January 2011
Electrical for the Service Tech, 1 hr, San Diego, CA ~ January 2011
Zodiac/ Jandy: Installation, Operation & Troubleshooting of Electronic Controls, 6 hrs,
Sacramento, CA ~ February 2012
Advanced Electrical for Swimming Pools, 2 hrs, Long Beach, CA ~ March 2012
PG&E Certified Aquatic Equipment Installer (CAEI), 8 hrs, Sacramento, CA ~ October 2012
Pentair University, Easy Touch Programming, 3.5 hrs, Reno, NV ~ October 2016
Pentair University, Heater Troubleshooting, 3.5 hrs, Reno, NV ~ October 2016
Pentair University, Intellitouch Programming, 1.5 hrs, Reno, NV ~ October 2016
Pentair University, Automation Overview, 1.5 hrs, Reno, NV ~ October 2016
Pentair University, Screen Logic Networking, 1.5 hrs, Reno, NV ~ October 2016
Pentair University, Pentair ETools, 1.5 hrs, Reno, NV ~ October 2017
Pentair University, Intellifo Pump Changes through Time, 1.5 hrs, Reno, NV ~ October 2017