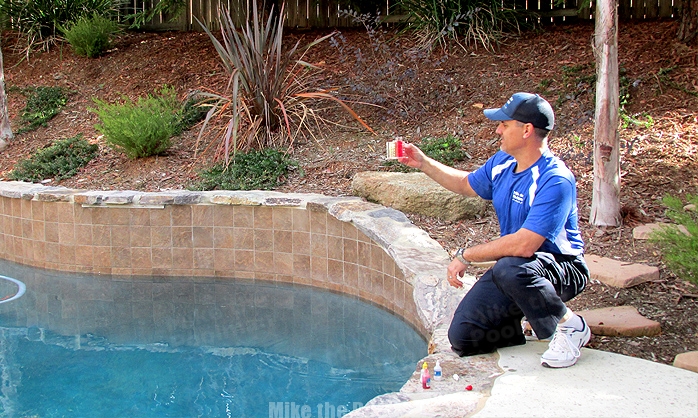 Weekly pool service, pool maintenance and pool cleaning in El Dorado Hills and Folsom.
Considering a pool service ? Watch this short video to see what our customers are saying…..
"Reliable", "Honest", "Top Notch Service", "Fair Prices"…

In addition to weekly pool service, we also diagnose repair and install pool equipment including variable speed pool pumps.
Pool Service Options and Rates.
My Pool Service philosophy: Listen to your needs and provide insightful options.
Its really quite simple: Listen, communicate and offer options.
Customers hire me to be their swimming pool expert. We are paid to care for your swimming pool investment and save you money on costly repairs in the long run. Sometimes this means suggesting a repair to prevent a major expense and sometimes it means making you aware of an issue but letting it be because there isn't enough value in repairing it.
Regardless, we make recommendations that are best for you.
We communicate and offer alternatives, then we let you make the decision.
We limit routes to Folsom and El Dorado Hills. Keeping our pool cleaning route local allows us to always be within minutes of your swimming pool when concerns or repairs arise. Living in close proximity allows me to provide the best pool service available. I only accept pools for weekly service in or near my home in Folsom.
(If you live outside our service areas and would like a service referral, I am very knowledgeable of quality pool cleaning companies and would be happy to refer someone in your area).
We electronically record your chemistry results, services performed and technician notes and send an email update within 5 minutes or servicing your pool!
Ever wonder if the pool service technician has really been there? We take the worry away by providing customers with written accountability. We log all test results, the services we perform, and keep them as permanent record.
Water Chemistry Certified and Member of IPSSA
IPSSA is the Independent Pool and Spa Service Association
IPSSA is a highly respected national trade organization that exists for the mutual professional benefit and growth of its members and for the continued improvement of the pool and spa industry. Members must pass water chemistry exams and attend regular meetings and are only admitted as members after meeting strict requirements. I, Mike the Poolman, served two consecutive terms as President from 1999- 2003.
CPO Certified
The Certified Pool/Spa Operator program is a highly recognized and respected training course developed by the National Swimming Pool Foundation.
The CPO certification program is widely accepted by health departments.
Continuing Education
We regularly attend continuing education and product development courses. I have listed my extensive list of courses completed.
I also teach continuing education classes and mentor new industry members.
Actively Involved in the Swimming Pool Industry
I served on the IAPMO national swimming pool technical code committee and on the Board of Governors for the California Pool & Spa Association. I am a past president of Capital Valley IPSSA and former board member for The National Pool & Spa Institute (now known as APSP).
In business since 1995.
I have been in the pool service business for over twenty one years and have been working on swimming pools in Folsom & El Dorado Hills for over twenty four years!
My company is established, profitable and reliable. Our pool business exists to service, repair and care for your swimming pool.
We are a family owned business working for families.
I (Mike) am married and we have three young children.
I understand how important it is to have a trusted professional in your backyard providing your pool service.


Weekly Pool Service Options:
Chemicals Only

: Currently unavailable
A partnership between customer and us to care for the pool.
Test water weekly for chlorine, pH & Total Alkalinity. Add necessary chemicals to balance water.
*Note: We ONLY balance pool water chemistry with this level service. The customer is responsible for the equipment. *We will troubleshoot and repair equipment for a fee.

Starts at $75
Chemicals & Baskets Service:
A partnership between customer and us to care for the pool.
Test water weekly for chlorine, pH & Total Alkalinity. Add necessary chemicals to balance water.
Empty skimmer baskets each week.
Empty pool cleaner bag and pump basket each week as necessary.
Monitor equipment for proper operation. Advise customer on necessary repairs.

Starts at $95
Chemicals & Baskets Service
plus Brushing:
A partnership between customer and us to care for the pool.
Test water weekly for chlorine, pH & Total Alkalinity. Add necessary chemicals to balance water.
Empty skimmer baskets each week.
Empty pool cleaner bag and pump basket each week as necessary.
Monitor equipment for proper operation. Advise customer on necessary repairs.
Brush pool/spa walls and steps each week.

Starts at $125
Full Service:
Currently unavailable
We do it all (except add/ drain water)
Test water weekly for chlorine, pH & Total Alkalinity. Add necessary chemicals to balance water.
Empty skimmer baskets each week.
Empty pool cleaner bag and pump basket each week as necessary.
Skim surface each week, if needed.
Vacuum floor each week, if needed.
Brush pool/spa walls and steps each week.
Monitor equipment for proper operation. Advise customer on necessary repairs.
Clean filters per manufacturer's recommendations.

Starts at $175